01
III Gran Premio del General Juan Peron
y de la Ciudad de Buenos Aires
FL
Palermo
30.01.1949
02
III Gran Premio de Eva Duarte Peron
FL
Palermo
06.02.1949
03
III Copa Accion de San Lorenzo
FL
Rosario
13.02.1949
04
II Gran Premio Internacional del General San Martin
FL
Mar del Plata
27.02.1949
05
Semana de Bell Ville
FL
Bell Ville
20.03.1949
06
IV Grande Premio de Interlagos
FL
Interlagos
20.03.1949
07
X Grande Premio da Cidade de Rio de Janeiro
FL
Gavea
27.03.1949
08
IV Gran Premio di San Remo
F1
Ospedaletti
03.04.1949
09
X Grand Prix du Pau
F1
Pau
18.04.1949
10
I Richmond Trophy
F1
Goodwood
18.04.1949
11
III Grand Prix de Paris
F1
Montlhery
24.04.1949
12
III JCC Jersey Road Race
F1
St Helier
28.04.1949
13
IV Circuit du Roussillon
F1
Perpignan
08.05.1949
14
British Grand Prix
F1

Silverstone

14.05.1949
15
Grand Prix de Marseille
F1
Marseilles
22.05.1949
16
Preis der Ostschweiz
Erlen
22.05.1949
17
XI British Empire Trophy
F1
Douglas
26.05.1949
18
XVIII Grand Prix des Frontieres
F1
Chimay
05.06.1949
19
Grand Prix de Belgique
F1
Spa-Francorchamps
19.06.1949
II Gran Premio dell'Autodromo di Monza
F2

Monza

26.06.1949
20
IX Grosser Preis der Schweiz
F1

Bremgarten

03.07.1949
21
XI Grand Prix de l'Albigeois
F1
Albi
10.07.1949
22
VI Grand Prix de France
F1

Reims-Gueux

17.07.1949
23
II Grote Prijs van Zandvoort
F1
Zandvoort
31.07.1949
24
36 Grand Prix de l'ACF
Saint-Gaudens
07.08.1949
25
I BRDC International Trophy
F1

Silverstone

20.08.1949
26
Lausanne Grand Prix
F1
Lausanne
28.08.1949
27
Gran Premio d'Italia
F1

Monza

11.09.1949
28
I Goodwood Trophy
F1
Goodwood
17.09.1949
29
Australian Grand Prix
Leyburn
18.09.1949
30
Czechoslovakian Grand Prix
I Velka cena Ceskoslovenska
F1
Brno
25.09.1949
31
V Coupe du Salon
F1
Montlhery
09.10.1949
32
IV Gran Premio del General Juan Peron
y de la Ciudad de Buenos Aires
FL
Palermo
18.12.1949
---
Ferrari GP 1949 fotos
---
---
1949-04-03: San Remo F1, GP-08C, Ferrari 125F1, #24 Raymond Sommer, overheated
1949-04-03: San Remo F1, GP-10C, Ferrari 125F1, #14 Peter Whitehead, retired
IV Gran Premio di San Remo (Italy)
Ferrari 125 F1 n°24 Raymond Sommer / did not finished

---
1949-04-03: San Remo F1, GP-02C (or GP-06C), Ferrari 166F2, #42 Felice Bonetto, 5th
IV Gran Premio di San Remo (Italy)
Ferrari 166 Inter F1 n°48 Roberto Vallone / Scuderia Lazio / 8th of the race
Ferrari 166 SC F1 n°44 Ferdinando Righetti / did not finished

---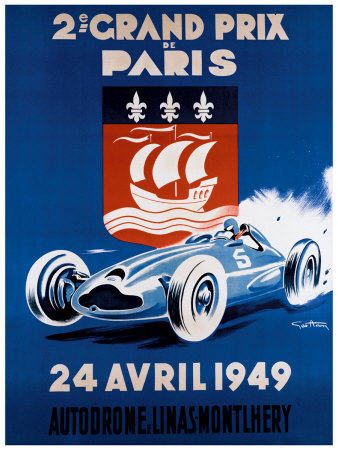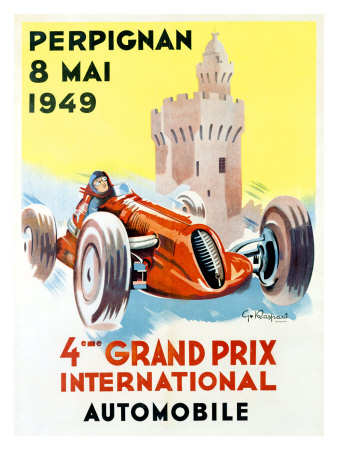 ---

"Grand Epreuve" by Alan Fearnley
---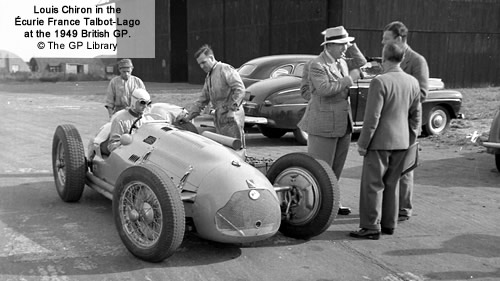 1949 British Grand Prix ,Chiron
---

1949 British Grand Prix
---

1949 British Grand Prix: Emmanuel de Graffenried ( Maserati 4CLT) (Photo: LAT Photographic)
---
1949-08-20: Silverstone F1, GP-12C, Ferrari 125F1, #27 Luigi Villoresi, 3rd
BRDC International Trophy, Silverstone (England)
The first BRDC International Trophy meeting, formally titled the Daily Express International Trophy, was held on 20 August 1949 at the Silverstone Circuit, England.
It was the first race meeting to only use the former airfield's perimeter roadways, rather than the main runways. The event was held over two heats of 20 laps and one final of 30 laps of the Grand Prix circuit. The final was won by Italian Alberto Ascari, who would go on to win the Formula One World Championship twice. Sadly, the race meeting was marred by the death of St John Horsfall in an accident during the final race.

---
1949-09-11: Monza F1, GP-08C, Ferrari 125F1, #40 Raymond Sommer, 5th
XIX Gran Premio d'Italia, Monza (Italy)

---
1949-09-11: Monza F1, C-01, Ferrari 125F1, #8 Alberto Ascari, 1st
XIX Gran Premio d'Italia, Monza (Italy)

---
---
1949 Pau, Fangio, Maserati

---
Circuit des Remparts à ANGOULEME, ici au départ de l'épreuve de 1949, SIMCA-GORDINI 11
1949-06-12: Remparts F2, GP-02C, Ferrari 166F2, #26 Bruno Sterzi

---