---

· Alfa Romeo Bimotore 1935

· Alfa Romeo 158/159 1938

---
With the 8C-308 of 1938, designed for the 3-litre formula, came a change in the nomenclature, the type designation meaning eight cylinders and 3-litres. A factory sheet gives it as the 8C 308/2900.
The tubular chassis was adevelopment of that on the 12C-37, and it was a leak in the saddle tank which caused Nuvolari's 8C-308 to catch fire in practice a Pau in 1938.
The engine was developed from the famous 2.9B Monoposto unit, and at last a step was taken which had puzzled many people as to why it had not been done long before -- namely the bore was increased from 68mm to 69mm so that the capacity of the 69 x 100mm engine was 2,994cc instead of the old 2,905cc. It now developed 295bhp at 6,000rpm, and the makers gave it a maximum speed of 168mph.
The 8C-308m with the faithful old eight cylinder engine in the new chassis, was something of a stop-gap, for the makers were pinning their hopes on the twelve cylinder and, in particular, the sixteen cylinder engine, which they intended to develop in order to catch up with the Germans. Nevertheless the 8C-308 was a good car, if too slow for the formula races it took part in. In later years Galvez in Argentina and Landi in Brazil won several races with this model, as did Jean Pierre Wimille soon after the War.
The car which Sommer raced before the War, and which still holds the Monthlery lap record, appeared at Indianapolis in 1940 entered by Wharston-Dewart Inc. for Chester Miller to drive and finished seventeenth after qualifying at 121.322mph. Almost certainly it was this same 8C-308 which appeared at Indianapolis in 1946 enetered by Milt Maron for Louis Devant to drive. Devant qualified at 119.335mph and finished sixth.
In 1947 Marion entered the car with Walt Brown at the wheel, and he finished seventh after qualifying at 118.335mph.
In 1948 Johnny Mauro, who now has a motor business in Denver, Colorado, bought th ecar from marion in New York, qualified at 121.79mph at Indianapolis and finished eighth.
Of the 1951 race Mr Mauro writes: 'The car was fast becoming obsolete at the speedway, so I reworked the engine as to get 500 more rpm out of it fo rthe 1951 race and blew it up. I sold it to a fellow in Ohio and he turned up at the speedway with a 270 Offy in it. I drove it to compare, but it was not the same car. I would go on record to say that the 308 Alfa Romeo was one of the greatest Race Cars that was ever built. I enjoyed driving it very much.' Johnny Mauro also drove the 308 at Pikes Peak Hill Climb.

---
Alfa Romeo entered the 3 litre formula with no less than three different cars, all with independent supension and distinct appearance. Many consider that the factory should have done better concentrating on just one car instead.
The first one, the 308, was a development of Jano's classic 8 cylinder car. Finally the bore was increased from 68 to 69 mm changing the volume from 2905 to 2994 cc. Four old 8C-35/12C-36 tubular chassis were used with only minor updates. The car was rather a stop gap construction until the stronger 12 and 16 cyl cars were ready. Fuel was held in a saddle tank over the driver's feet to improve the weight distribution and handling.
The car first appeared at Pau 1938 where a leak in the saddle tank caused the accident that made Nuvolari to resign from Alfa Romeo. Two of the cars were later borrowed(?) to Piero Dusio's Scuderia Torino and a third to Renato Balestrero. One car was raced to victory in the 1938 Rio de Janeiro GP by Pintacuda. It was then sold and remained in South America. There was also a car raced by Sommer in 1938 and (later?) sold to him, the sold car turning around the ban of foreign drivers. At the 1939 French GP two 308s were entered by Christian Kautz. The cars had Swiss crosses painted on the scuttle.
One 308 car (AC 79), possibly ex-Pintacuda, was later shared by Landi and Casini before Landi sold it to Cassini in 1948. Late 1949, it was loaned to Antonio Fernandez who crashed it badly. Later (circa 1956) Casini rebuilt the car onto a road car, fitting a Cadillac engine. Later it went via Colin Crabbe? to Julian Mazjub.
Another car (AC 78), owned by a Signor Bellini Caviglia, arrived at Montevideo late 1938. Dr. Italo de Luca bought it. Between 1939 and 1942, the car was raced by Ricardo Nasi, Ricardo Carъ and Josй Canziani. In 1946, the car was bought by Oscar Galvez in partnership with Julio Rosso and Ernesto Petrini. It was successfully raced by Oscar Galvez between 1947 and 1951 before he sold it to "Automovil Club Argentino", which gave it to Fangio. It was raced by Manuel de Teffй in 1952. It is now shown at the J-M Fangio Museum.
A third car was used by Sommer after the war on loan from Alfa Corce. It was also raced by Wimille and later own by "Raph", who probably sold it in Brazil 1948, It was raced in 1949 by Mr. Jaime Neves.
Sommer's original pre war car appeared at the 1940 Indy 500 and it is probably the same car that also appeared in 1946-1948.

---
Alfa Romeos racing at Indy:
various Alfa Romeos that contested the Indianapolis 500 between 1937 and 1946. The car driven by Rex Mays in 1937 was named 'Bowes Seal Fast Special' and in the following year he drove an 'Alfa Romeo Special'. Were these the same cars I wonder?. An 'Alfa Romeo Special' driven by Babe Stapp finished 5th in the 1939 race. Louis Durant finished 6th in the 1946 race (one place ahead of Villoresi's Maserati!) with an Alfa Romeo

1) The Bill White Alfa Romeo 8C-35, serial number purportedly 50012, was apparently an unraced spare car at the 1936 Vanderbilt Cup, subsequently purchased by Bill White and rebodied for Rex Mays to drive in 1937 (ret Indy, 3rd Vanderbilt) and 1938 (ret Indy), then Babe Stapp in 1939 (5th Indy), Harry McQuinn in 1940 (11th Indy) and 1941 (7th Indy, with relief by Kelly Petillo), Duke Nalon in 1941 (ret Milwaukee & Syracuse - yes, dirt tracks!), Jimmie Wilburn in 1946 (ret Indy), Cy Marshall in 1947 (8th Indy) and Art Scovell the same year (10th/ret? Milwaukee, ret Langhorne). This car was modified and rebodied to some extent over the years!
8C-35 (car No.1)? I was led to believe only two 8C-35s remain - 50013 the ex Dennis Poore car and 50014 which Paul Grist discovered in Argentina.
The ex-Indianapolis 8C-35 has been in the Alfa museum for many years

2) The Frank Griswold Alfa Romeo B, serial number purportedly 50002, but possibly 50007, a former Scuderia Ferrari car, driven by Louis Tomei in 1939 (12th Indy, with relief by Mel Hansen) and Al Miller in 1940 (ret Indy), sold to Tommy Lee and driven by Hal Cole in 1946 (ret Indy) and Ken Fowler in 1947 (ret Indy) and 1948 (dns Indy).
The Tipo B referred to (car No.2) is unlikely to be 50002 as that car was in Australia for many years before being brought back to the UK by the Hon. Patrick Lindsay in the late 1960s. I'm fairly certain that the Indy car is the one recently brought to the UK from America by Hugh Taylor.
The US Tipo B was indeed 50002. The Australia/Lindsay car was of an earlier type, and number 5002br>
3) The Wharton-Dewart Alfa Romeo 308, serial number purportedly 422022,
formerly owned and driven by Raymond Sommer, was driven by Chet Miller in 1940 (17th Indy, with relief by Henry Banks),
sold to Milt Marion and driven by Durant in 1946 (6th Indy),
then Lee Wallard the same year (ret Langhorne) and Walt Brown in 1947 (7th Indy),
sold to Johnny Mauro and driven by Mauro himself in 1948 (8th Indy, with relief by Louis Durant, 3rd Pikes Peak),
Tony Bettenhausen in 1949 (dns Indy), also Mauro again the same year (dnq Indy, ret Pikes Peak)
and in 1950 (dnq Indy, 9th Pikes Peak),
then possibly Ray Shadbolt (sp?) in 1951 (dns? Pikes Peak),
Charlie Bryant in 1952 (7th Pikes Peak) and 1953 (ret Pikes Peak),
and Jimmie Good in 1954 (dns Pikes Peak).
is the one preserved in the Indianapolis Museum

A 1938 Alfa Romeo entry for Tazio Nuvolari never appeared, it was said to be for a Tipo 308 (possibly 422022!). Another 308 (Ecurie Naphtra Course, serial number possibly 422044) was entered for "Raph" in 1946 by Harry Schell, but also dna.
---
1924 Alfa Romeo Tipo B - P2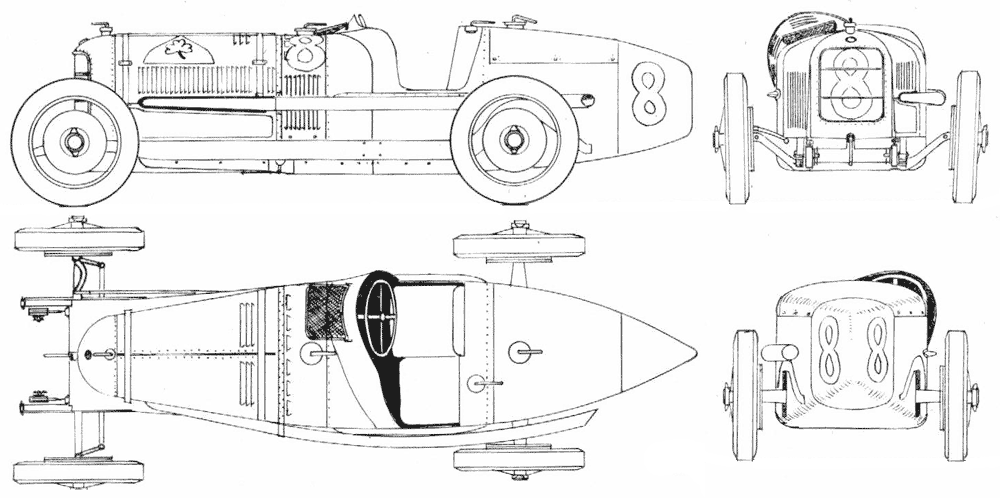 ---
1931 Alfa Romeo 8C 2300 Monza

---
1933 Alfa Romeo Tipo B - P2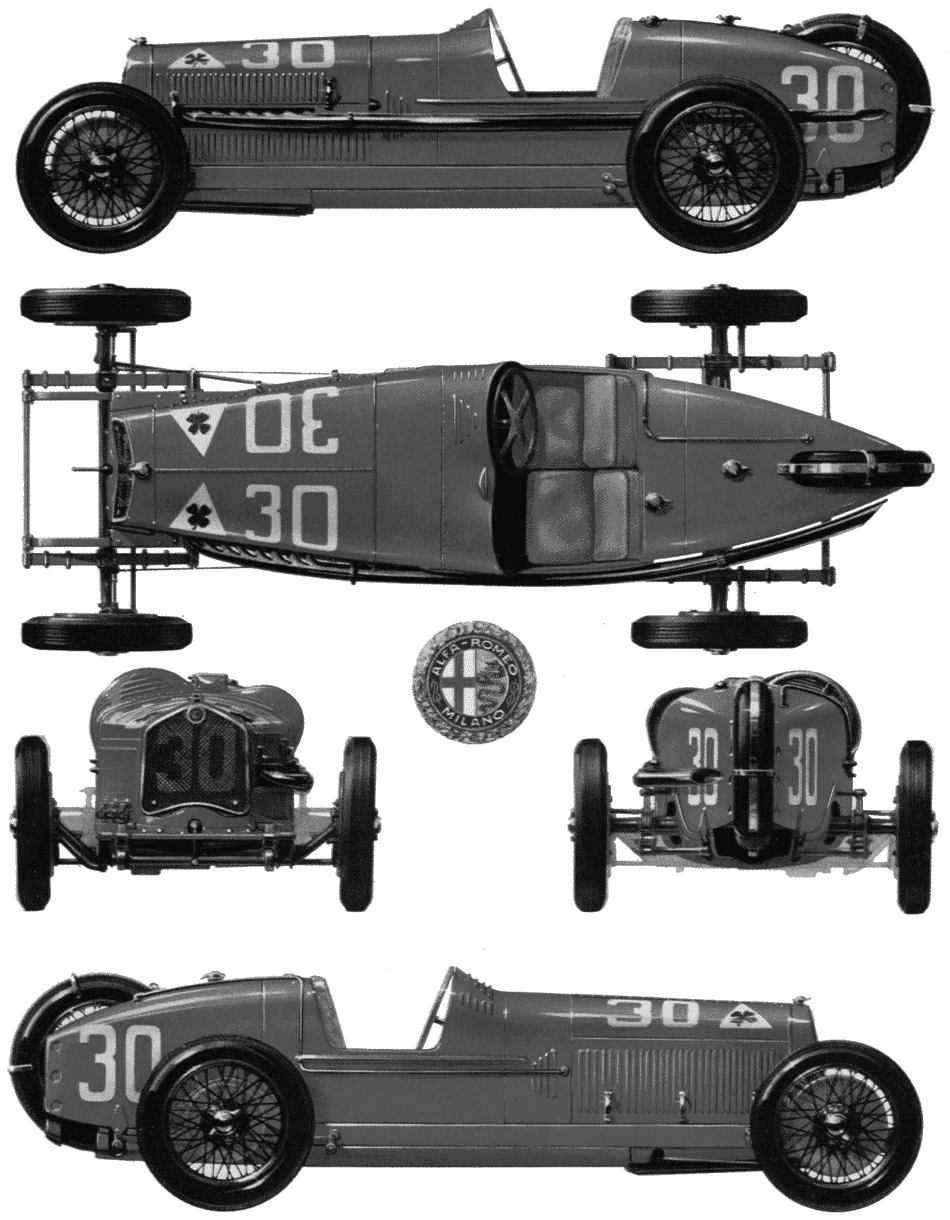 ---
1932 Alfa Romeo Tipo B - P3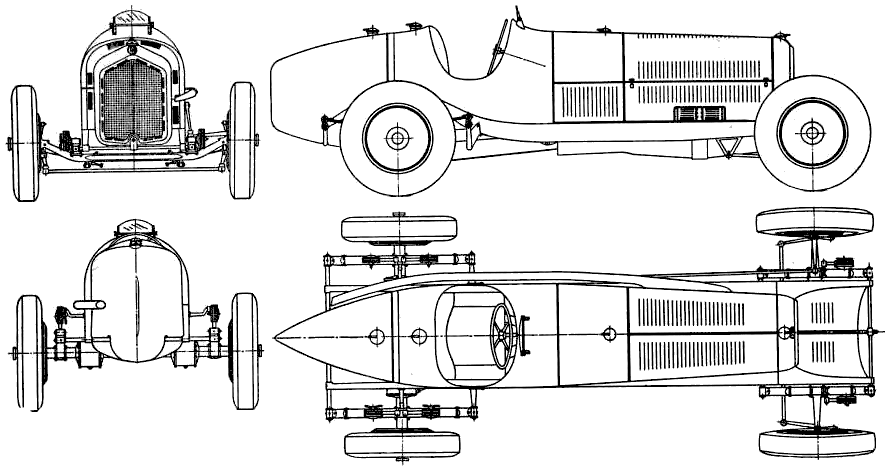 ---
1933 Alfa Romeo Tipo B - P3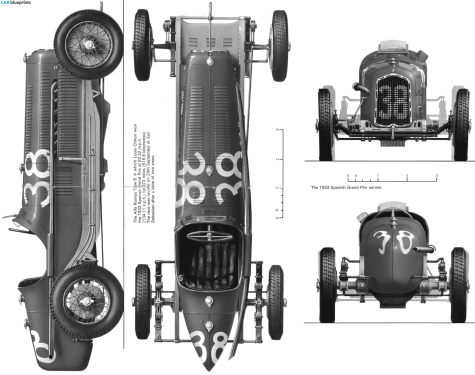 ---
1936 Alfa Romeo 12C-36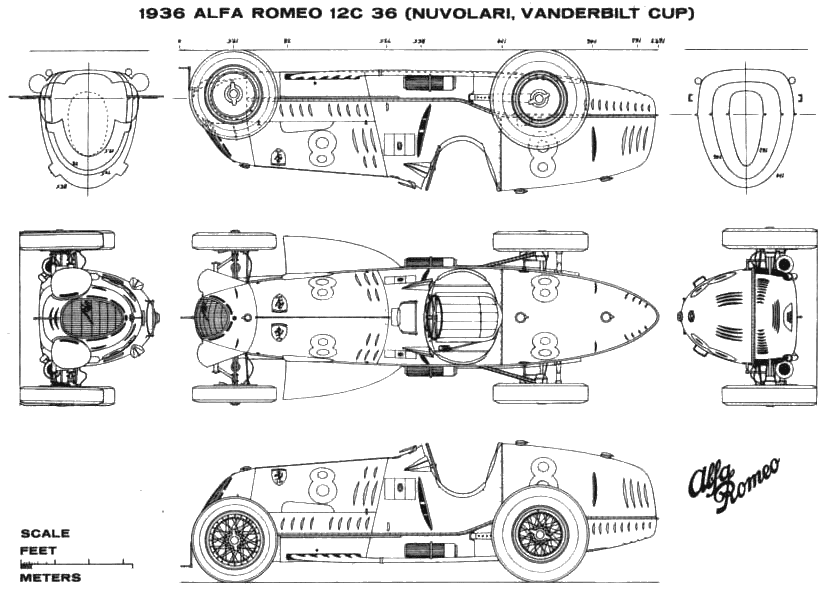 ---
1936 Alfa Romeo 8C / 1937 Alfa Romeo 12C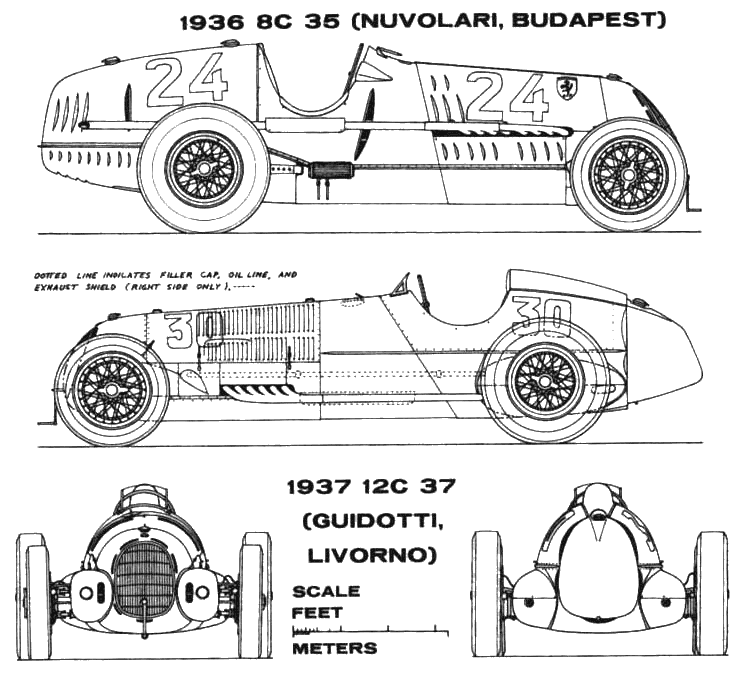 ---
1937 Alfa Romeo 12C-37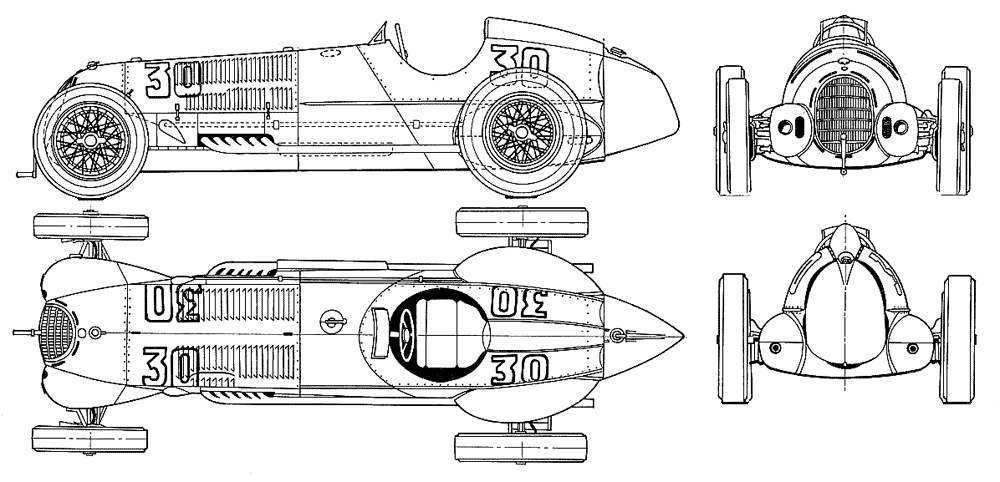 ---
1938 Alfa Romeo 12C-38

---
1940 Alfa Romeo Tipo 512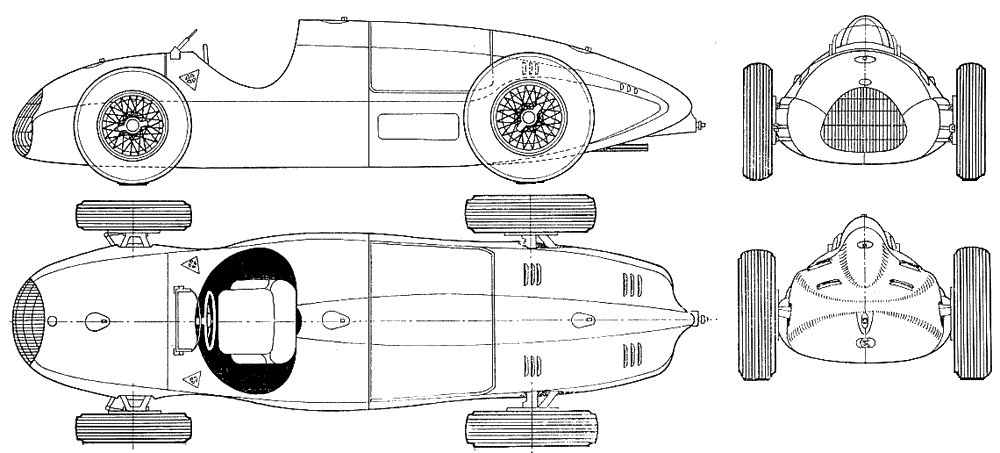 ---
---
1979 Alfa Romeo 177

---
1980 Alfa Romeo 179B